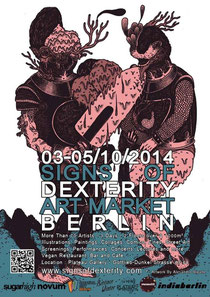 Alessandro Ripane / poster!


"SIGNS OF DEXTERITY" is a gathering of international creators, focused on qualitative illustrations, drawings, paintings and photography.
From tight design to obscure surrealism, including traditional comic illustration, digital collage and many other innovative combinations. One line: Dexterity!
Dexterity will be affordable, all original artworks will be exhibited among their respective reproductions. Silk screenings, engravings, photography, digital prints
Remember : Friday the 3rd October till the Sunday 5th : More than 70 Exhibitors from more than 20 countries will present their latest creations At Signs of Dexterity Art Market.
A massive gathering over 2 Floors and covering a 1000m²!

Opening Friday at 17:00 with Free Drinks offered by Berliner Winter!
clic HERE for more informations ....